Air Sensors International Conference (Sponsors Only)
Sept. 12, 2018, 8 a.m. - Sept. 14, 2018, 5 p.m.
Organizer -
Air Quality Research Center
Contact -
Sandra Hall - (530) 754-8374 - sehall@ucdavis.edu
Location -
550 10th Street Oakland, CA 94607
ASIC will bring together stakeholders from academia, government, communities, and commercial interests to promote and advance air pollution sensors, improve the data quality from these sensors, expand the pollutants measured, and foster community involvement in monitoring air quality.
Conference Goals:
Collaborative opportunities for developers, researchers, government and community stakeholders
Promote and advance air pollution sensors
Improve data quality from sensors
Expand pollutants measures
Foster community involvement
This meeting will be held September 12 to 14, 2018 at the Oakland Convention Center, with pre-event trainings on September 11. To learn more and receive updates from the organizers, please visit the conference website.
Descriptive sponsorship information and benefits can be found on teh conference website
Sponsorship Benefit Levels
Basic Sponsorship Level (Includes: Exhibit Booth + 1 Booth Staff Member)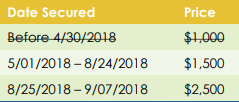 Cancellation Policy
Cancellation before June 15th, 2018: Registration amount minus a $50 handling fee
Cancellation June 16th - August 1st, 2018: Half of fees paid.
Cancellation after August 1st, 2018: No cancellations will be accepted; however substitutions will be allowed. Substitutions can be made by contacting the conference organizer. This must be done no later than September 3rd
Registration is closed for this event